Archived
Back to...
"Sweat" Critique, Magnus von Horn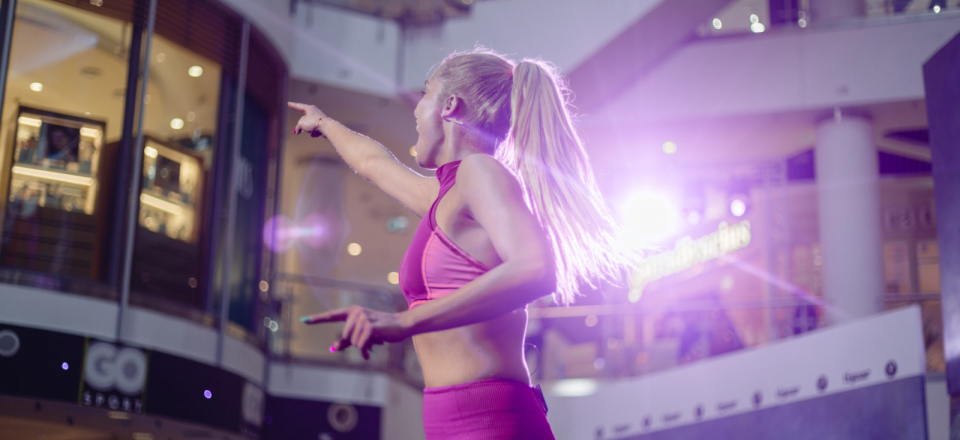 Sylwia Zajac's nails – consumerism's claws
A Swedish-Polish drama "Sweat" (2020), directed and written by Magnus von Horn, whose films are mostly thrillers and are based on local murders, now – with a woman as the protagonist and her problems tightly connected to her gender, represents a step into the new terain.
The story is situated in Warsaw and speaks of a beautiful, successful, and popular fitness instructor and influencer Sylwia Zajac (Magdalena Kolesnik) who, despite her success feels lonely and is looking for true love. From beginning to start, a wish stays only a wish and Sylwia'scharacter lacks change and desire to turn those wishes into workings. Her threat, the antagonist, is a stalker, watching her from a building parking and masturbating to the view, sending her an apology video afterward. Sylwia doesn't call cops, though, nor does she try to rationally take care of this problem. In one scene, she begs her colleague to help her, but he only causes more trouble by beating the stalker up and masturbating after.
The plot follows three days of Sylwia's daily life. She shoots videos for social networks in which you can see her honesty while doing the job since she does what she preaches – she drinks the proteins she advertises, wears clothes from the sponsors. This is also where the main idea of the director – discovering the real life of an internet star – is lost because she lives her online stories. Apart from the wobbly relationship with her mother, and the stalker mentioned before, we saw everything about Sylwia from her Instagram.
There are three key moments the director uses and points out Sylwia's nails as a depiction of her character. We can see her long bright nails, uncommon with fitness trainers, while she holds training at the shopping mall. The first key moment is when she's at a nail salon and is listening to the girl next to her filming an Instagram story – it is a moment she opens up to her insecurities and questions her value. The next key in unveiling Sylwia's character is her mother's birthday, where all their disagreements are shown, among other things, through her mother's negative remark about Sylwia's nails. Repetition of the motif is a coincidence if it happens twice, but when it happens three times – it oughts to be a rule. So when the third moment strikes, we get closure – a close-up of her hands with perfectly manicured nails while she supports her stalker by taking him to the ER. This is a simple, and very subtle solution – joining the binary opposites (a fitness instructor and long nails) to tell a story.
The film gets its unfolding in a morning show, where the protagonist makes her confession in front of thousands of viewers and puts the point across verbally, as most things in this film are conveyed. Similar to the "Joker" film, but briefer, with less blood. Sylwia tells us how the most beautiful people are the most vulnerable ones, emphasizing the dominant postulates of neo-liberal capitalism and consumerism, of which she herself is a product.
Perhaps the biggest problem in this sea of vagueness is that the whole narrative is a depiction of woman's problems but from a man's point of view. Especially after the MeToo campaign which empowers and encourages women to share their experiences with sexual harassment, this story about a predatory Sylwia eventually helps is quite banal and implausible. "Sweat", although it had the potential to show us real problems of being an influencer, did just the opposite. Sylwia is missing a breaking point, where she would voice out her complaints, talk about the main problem, without sweeping it under the rug. Otherwise, she is just unhappy, but the spectator doesn't know why. If her only obstacle to happiness is being lonely, why doesn't she socialize, try to befriend the people who approach her and want to interact? She goes everywhere, being unsatisfied. If she's having a bad day, its self-dissatisfaction, and if she's having a good day, its the plastic packaging of the food she advertises she's displeased with.
The aesthetic of the film is close to one of contemporary pop culture. The scenes are high in saturation and very attentive to younger spectators, whom the content is intended for. However, there is a gap between form and content. While the editing and camera movements sometimes give off a pop song video vibe, therefore calling towards younger audiences along with the subject matter, the narrative does the opposite – the nature of this topic discussion and presentation directly calls to the older (festival) audience. "Sweat" only confirmed the older generation's ingrained opinion – Instagram addicts are shallow people, Internet business is just easy money. Therefore, it is no surprise this film was supposed to premiere at this year's Cannes. The selection of a youthful story, told in contemporary film style, and even the director being a Millennial by his age, is an ideal argument for the openness of festival jury authorities, even though the film is only a confirmation of their opinions, packed in colorful, not to forget recyclable packaging.
Divna Stojanov, participant, Film critics' workshop
Back to...