Archived
Back to...
"Lost and Beautiful" Critique, Pietro Marcello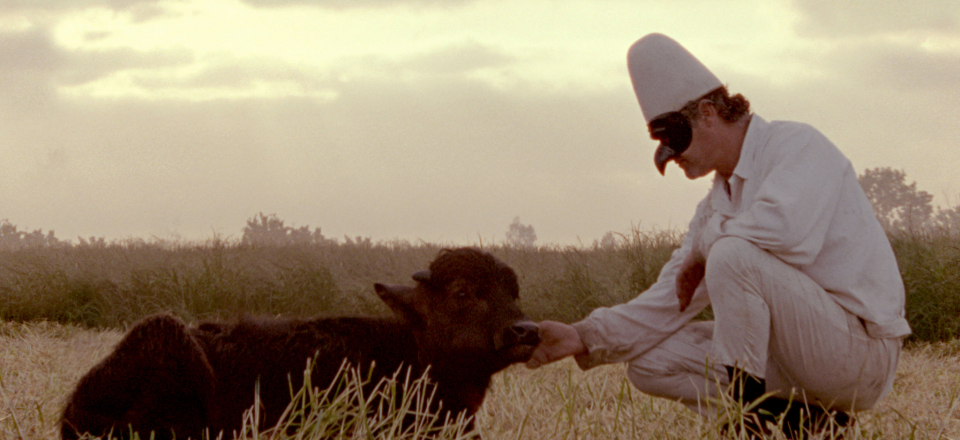 BEAUTIFUL, BUT JUMBLED
Continuing the tradition of his authorial preoccupations, in 2015 Pietro Marcello made "Lost and Beautiful", a film in which he blends folk myths with documentary content in an eclectic way, presenting them through an essay-poetic feature film form. This kind of film collage is not at all unusual for Marcello; after all, he is a director in the domain of experimental documentary, with a strong need to deal with the socio-political problems of contemporary Italy, primarily the problems of people and the working class, which is why the myth and reality intertwine. Simultaneously, we follow the real story of Tommas, a shepherd who dies guarding an abandoned Carditello Castle which was discarded by the Italian government and is being gradually demolished by the mafia; a fictional story of Pulcinella (Sergio Vitolo), a character from a traditional Italian comedy, and Tommaso's calf which goes with him on a journey to shepherd Gesuino who will take further care of the calf.
With the first shot – a subjective outlook of Tommaso's grown calf being led to slaughter – Marcello puts the film in the perspective of that very calf, even giving him a voice, narrator (Elio Germano) who expresses the calf's inner thoughts and feelings. Marcello combines elements of a fable with motifs from Italian comedy dell'arte, with a life story of a shepherd idealist from contemporary Italy to point to an Italian society that is slowly moving away from nature, beautiful landscapes which he wonderfully depicts, and going more and more towards the exploitation of that nature and old values. So, Marcello decides to make a film about Tommaso, giving voice to a real-life fighter, and at the same time giving voice (literally and metaphorically) to a calf, conveying the allegory of the castle to a broader context – the story of man and nature.
Marcello's choice of dell'arte comedy, as a symbol of Italian cultural heritage, is very interesting and unusual, but quite understandable. First of all, it is necessary to say that this started only as a story of Tommaso, but Tommaso died during the time of filming, pushing Marcello to look for ways he could turn Tommaso's workings, his life and death into national heritage. Thus, the dell'arte comedy seems quite compatible with Marcello's work – both lacking a fully written script. Pulcinella is a typical dell'arte comedy character of a servant whose task is to save Tommaso's calf, that is – to save Tommaso's story and give deeper meaning to his struggle. So, it is evident Marcello identifies himself with the character of Pulcinella, an envoy who must preserve the story of a nation. The castle Tommaso guarded until his death eventually falls into the hands of the people, after the government's intervention against the mafia. Therefore, Tommaso's story also "fell into the hands of people"; it became a contemporary dell'arte comedy, something that belongs to the nation, not the bourgeoisie and upper class. The title of the film refers to the castle, a building that is beautiful and lost, but also to the story a one-man-fight, a beautiful one that could easily be lost too. Pulcinella, consequently, is no longer immortal, he becomes a shepherd too. In the last shot, we see him among cattle and cows, because his purpose is preserving Tommaso's spirit since he could not preserve his calf. Pulcinella, and thus Marcello are trying to maintain their nation's and generation's heritage.
But, despite Marcello's noble and avant-garde attempts, both in form and theme, "Lost and Beautiful" seems like a jumble of styles. The director makes an eclectic mix of Danielle Huillet and Jean-Marie Straub's influences, with the 16mm tradition of experimental essayists like Jean-Claude Rousseau, throwing in fairytale-like, semi-documentary poetic tendencies of Raul Ruiz and Pedro Costa. It is this mesh of essayism, fiction, and documentary that puts the spectator between emotional engagement and objective distancing from the story and its characters. As if Marcello went for a dry theorist and a skilled storyteller at the same time – he served us more different perspectives that did not serve the purpose of easier comprehension nor bigger emotional involvement, but only confused the spectator. Besides, having basic (or even broader) knowledge of Italian culture, literature and current political situation is a necessity in order to catch the gist of this film. Therefore, it could be said Marcello made a film dedicated to cattle, cows, calves, and other domestic animals that will certainly never be able to comprehend this film, but was also a complicated project, regarding form, which loses the understanding of an average or less informed viewer. It is no surprise he turned to feature film, where he expressed his socio-political ideas in a much better and concrete way.
Luka Vlaho, participant, Film critics' workshop
Back to...