Official selection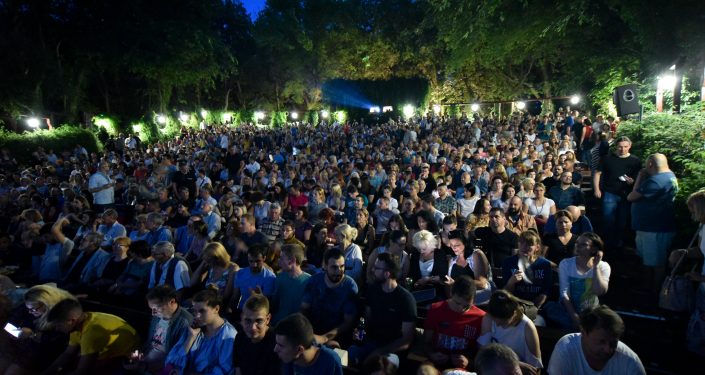 Official Selection is dedicated to those European films that provoke issues about destiny of European man, simultaneously pointing at the beauty and importance of diversity within European region.
These European films easily get to the audience as the identification with their protagonists is so real and possible both in their misery and their happiness. Emotions from the screen get emotional response from the audience.
This year's selection of 14 films made festival's programmer Nenad Dukić. The films are in competition for Golden Tower for the best film of the Festival and two Palić Towers, for the Best Director and Special Jury Award. The films are going to be judged by five-member international jury.
Parallels and encounters
Competition programme Parallels and Encounters is dedicated to feature films and documentaries from former Eastern European geopolitical region and deals with problems of transition of societies and political systems, ethnic relations, identity and need for peace and co-existence, tolerance in the widest sense.
Quality of the films is going to be evaluated by three-member FEDEORA JURY composed of eminent European film critics.
Young spirit of europe
Young Spirit of Europe programme is dedicated to brave and inventive authors of unique poetics and attitude towards film. The programme shows features, documentaries, shorts, experimental, animated and all other possible forms of film seeking for new ways of expression and future of this art, selected by programer Neil Young.
The program consists of 32 new films and it is going to take place on the summer stage at the Abazija Cinema in Palić.
New Hungarian film
Culture is something you can always count on while seeking the way of understanding and acceptance. Traditional program New Hungarian Film has already been of a great help as a part of culture, trying, trough the art of film, to find those who are open to learn about Hungary. The program is inspired by the fact that there is a great population of ethnic Hungarians in the Province of Vojvodina, that hasn't got opportunity to be in touch with the trends of contemporary Hungarian film production in cinemas or TV.
Bulgaria in focus
In the last few decades European film experienced great changes. Small and big national cinemas cannot be differed anymore. At the European film scene there are numerous changes and sudden happenings that put certain cinemas in the center of interest. This is why, ten years ago, we introduced Cinema in Focus program which presents some of the most important and most interesting film productions in Europe every year. So far Festival presented cinemas of Sweden, Belgium, Norway, Finland, Austria, Israel, Russia, Czeck Republic, Poland, Turkey, Georgia, Slovakia and Greece.
Eco dox
We live in the world where we can clearly see dreadful impact of human deeds on natural environment and planet Earth in general and on the other hand we experience growing conscious for necessity of actions towards peace between human kind and nature. Referring to this, in 2008, we started program that deals with ecological documentaries. In this program there are 7 films of the newest production. Program is being followed by a vivid debate as well as scientific conference during the Festival, where experts and activists in the field of environmental protection have an opportunity to contemplate various topics and issues. The programmer is Igor M. Toholj.
Homage programme to Aleksandar Lifka award laureates
European Film Festival Palić established Aleksandar Lifka Award in 1999 for the exceptional contribution to the European cinema. So far, laureates are Lucian Pintilie, Krzysztof Zanussi, Jiri Menzel, Andrzej Wajda, Miklos Jancso, Margarethe von Trotta, Theo Angelopoulos, Ken Russell, Ken Loach, Costa Gavras, Jean-Marc Barr, Nikita Mihalkov, Claude Lelouch, Roy Anderson, Ulrich Seidl, Christopher Hampton, Brian Cox and Rajko Grlić. The award of the same title every year goes to a national author as well. Some of the laureates are: Dušan Makavejev, Eva Ras, Gordan Mihić, Milena Dravić, Puriša Đorđević, Živojin Mitrović, Velimir Bata Živoinović, Goran Marković, Predrag Miki Manojlović, Goran Marković, Goran Paskaljević, Srđan Karanović, Zoran Simjanović, Emir Kusturica, Mira Banjac and Želimir Žilnik, Slobodan Šijan, Slavko Štimac, Rade Šerbedžija, Miljen Kljaković Kreka. The Award got its name after the regional pioneer of cinema – Aleksandar Lifka who, beck in 1911, established first cinema theater in Subotica. On this occasion, every year within pre festival program, we screen films dedicated to the laureates.
New European documentaries
New European Documentaries program, established in 2019, gathers five works from all parts of Europe selected by Igor Toholj. This selection, from a very fruitful but also heterogeneous European production, every year singles out current feature-length documentaries that are imposed by theme, approach or means of expression ranging from personal, hermetic, to those engaged and activist.
It also presents films by doyens, debutants as well as biographical documentaries about veterans of European cinema.
Best of Europe 2019
Eurocinema, as an annual European Film Festival project, dedicated to contemporary European cinema, is going to present selection of 7 most important European films that entered Serbian cinema distribution. As an introduction to the Festival programs audience will have chance to recall of some last year's European cinema titles and were most popular films in all Serbian cinemas.
Classics on the square
On one of the most beautiful squares in the country European Film Festival Palić, within the pre-festival program, screens most important European film classics. This year audience will be able to see five great film classics.