News
Back to...
Press Report / Day 5
21.07.2021.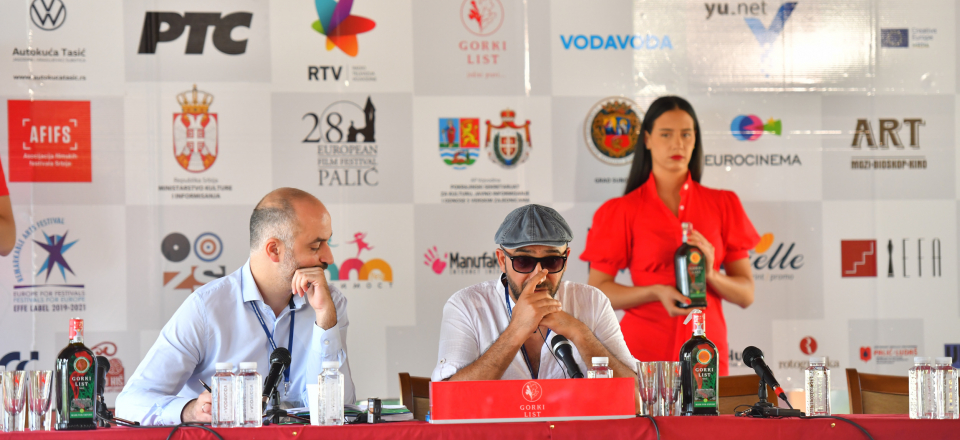 On the fifth day of the Palić European Film Festival, July 21, at the Great Terrace, speekers were: Ferit Karahan and Gülistan Acet Karahan - director and co-writer of Brother's Keeper, Reinis Kalviņš - director of The Shift, Aleksandar Vujović - director of film Rainbow, Richard Forbes-Hamilton - director of several films in the Young Spirit of Europe selection, Klem Viktor - actor in Post Mortem, and Ondřej Vavrečka - director of Personal Life of a Hole. At the same place was held promotion of the book Neda Arnerić: from Dream to Reality, And Back by Tatjana Nježić.
Ferit Karahan, the director of Brother's Keeper, spoke about the idea for the film about two Kurdish boys in a boarding school: "I went to the similar boarding school for six years. First, in 2009, I tried to write a draft script that wasn't very good. But after that I tried again in 2014, then in 2015. At that time, ISIS was experiencing its rise, which had a negative impact on the Kurdish people. All that affected Turkey as well, bombs were everywhere. We went back to the nineties - I felt it was the same as then, when I went to school. We sat down and wrote this story in seven days."
Reinis Kalviņš, the director of The Shift, a film about the taxi driver Marek who decides to flee the city because he is not able to take care of the debt to the owner of the company he works at, said about his main character: "When I was making the film, I wanted to him to make his own choices. Those choices he made, even in a single night, could change the course of his life in some way. But the choices he made probably didn't lead him to a better future."
Aleksandar Vujović, on the occasion of screening of Rainbow in the Festival selection Parallels and Encounters, stated: "I am especially pleased that a film of Montenegrin production has its representative at the European Film Festival Palić after many years. The film story is an extract from the book by the prestigious Italian artist Gaetano Grill, which was very interesting to me, since it is a rather atypical topic and story compared to those that are usually filmed here in Balkans."
Journalist Tatjana Nježić spoke about her book Neda Arnerić: From Dream to Reality, and Back, which in a unique way brings readers closer to the details of the famous actress' life and introduces them to the magic she spread on the big screen. In addition to conversations and interviews, readers can learn what her friends and close associates said and wrote about Neda Arnerić, recalling her most important roles, and rich photo documentation.
On the sixth day of the festival, on Thursday, July 22, at the Summer Stage in Palić, Milutin Petrović's film Bad Blood will have its world premiere in the Main Competition Program at 9 pm, while Piotr Domalewski's film I Never Cry will be screened at 11 pm. Selection Parallels and Encounters, at the Abazia cinema in Palić, presents films Branka by Hungarian director K. Kovács Ákos (17h), Nun of your business by the Croatian director Ivana Marinić Kragić (17:20) and a Canadian-Bosnian co-production The White Fortress by Igor Drljača (7 pm).
Back to...