News
Back to...
Impure Blood - Sin of Ancestors by Milutin Petrović and I Never Cry by Piotr Domalewski tomorrow on the program of the European Film Festival Palić
21.07.2021.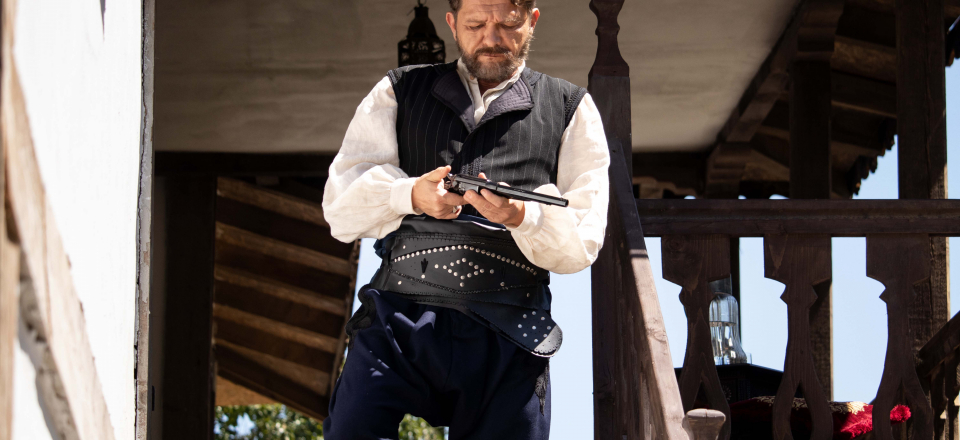 On the sixth day of the festival, on Thursday, July 22, at the Summer Stage in Palić, Milutin Petrović's film Bad Blood will have its world premiere in the Main Competition Program at 9 pm, while Piotr Domalewski's film I Never Cry will be screened at 11 pm.
Bad Blood follows the story of Hadži Trifun, a prominent Serbian merchant, who tries to preserve peace with Turkish authorities, but also maintain his reputation and influence in Vranje, an important Turkish town near the border with liberated Serbia. After the world premiere, the audience will be honored by the film crew - director Milutin Petrović, actors Dragan Bjelogrlić, Nela Mihailović, Katarina Radivojević, Anđela Jovanović and others. In I Never Cry, Ola, a 17-year-old from a small town in Poland, travels to a foreign country on her own. It turns out that it is a journey of her life, a journey into the unknown, on which she will try to reconnect with her estranged father.
Selection Parallels and Encounters, at the Abazia cinema in Palić, presents films Branka by Hungarian director K. Kovács Ákos (17h), Nun of your business by the Croatian director Ivana Marinić Kragić (17:20) and a Canadian-Bosnian co-production The White Fortress by Igor Drljača (7 pm).
The plot of Branka is located in Yugoslavia in 1991, far away from the war zones where young woman Branka gets a job at a maternity ward of a state hospital. She is all alone, but it turns out that loneliness is not the hardest burden Branka has to carry. Newborns are disappearing from the hospital. Film Nun of Your Business is a story about two nuns who fall in love with each other and, disappointed by the Church's reaction and the institutional abuse, they decide to leave the convent and start a life together on a Dalmatian island. Protagonist of The White Fortress is Faruk, an orphan who lives with his sick grandmother in a neglected suburb of Sarajevo, spending his days looking for scrap metal and not giving up on petty crime. One day, he meets Mona, a timid teenager from a politically powerful and rich family.
Slovenia in Focus program presents a short documentary Sieve-Makers from Red Cross: a Century of Existence in Belgrade by Dragomir Zupanac at 5 pm at the Eurocinema in Subotica, and then a feature documentary The Farewell directed by Petra Seliškar - a philosophical meditation on the life of the Slovenian poet, guitarist and lute player Tomaž Pengov, whose album Odpotovanja from 1973 was the first singer-song writer album in the former SFRY.
As part of the New Hungarian Film section, Varsics Péter's film Perfect as You Are is on program at the Eurocinema in Subotica at 7 pm. The film is a dramedy about the lies we tell, where a burnt-out advertising man tries to boost his own literary career by faking a romantic relationship with the author of a bestselling self-help book.
New European Documentary program, at 7 pm at the Art Cinema Lifka in Subotica presents film Interregno (directed by Fernando Gómez-Luna and César Souto Vilanova), which focuses on a conversation between two people on different continents, during the current global pandemic. At the same location, Eco Dox section presents film Algorithmic Island by Georgian director Tekla Aslanishvili at 5 pm, and Stolen Fish (directed by Gosia Juszczak) at 6 pm. At the Abazia cinema in Palić, the audience will be able to watch five films from the EFA shorts selection at 3 pm, and a special screening of the documentary-animated film Life of a Mutt by Tanja Brzaković at 9 pm, which follows fates of seven stray dogs from the margins of our society. In the selection Young Spirit of Europe, three short films will be screened at the same place at 10 pm.
Back to...