Archived
Back to...
Svetlana Bojković - The art of acting or the search for truth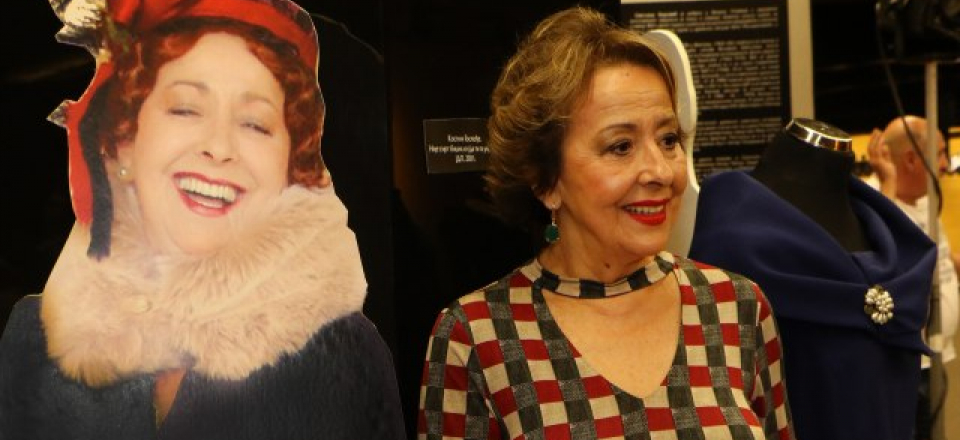 The Theater Museum of Vojvodina and Sterijino Pozorje organized an exhibition Svetlana Bojković - the Art of Acting or Searching for Truth on the occasion of fifty years of her artistic work and 2019 Sterija's Award for special merits in the improvement of theater art and culture. The exhibition is dedicated to the rich acting work of Svetlana Bojković in theater, television, film and radio drama, but also to her pedagogical and social engagement.
Artifacts used in the realization of the exhibition are the testimony to the artistic career of Svetlana Bojković. Exhibition is based on a rich and diverse material consisting of: documents, awards and recognitions, audio and video recordings of plays, television and radio programs and films, posters, program booklets, photographs, costume sketches, costumes, awards, etc. The research and organization of the exhibition with the catalog are based on documentation possessed by Svetlana Bojković, Branislava Atanacković, Theater Museum of Vojvodina, Association of Drama Artists of Serbia, Museum of Theater Arts of Serbia, National Theater in Belgrade, Yugoslav Drama Theater, Atelier 212, Serbian National Theater, National Theater of Republika Srpska in Banja Luka, "Puž" Theater, Belgrade Drama Theater, Sterija's Pozorje and other theater festivals and theaters, then the RTS Program Archive, Radio Belgrade Drama Program Documentation, Novosti Company, Media & Reform Center from Niš, Academy of Fine Arts in Belgrade, RTV, RTS, Center Film, Yugoslav Film Archive and other cultural institutions.
Author of the exhibitions and catalog
Zoran Maksimović, museum advisor
Co-author
Branislava Atanacković
Exhibition design and setup
Bojan Jovanović
Catalog design and technical arrangement
Nenad Bogdanović
Catalog cover design
Attila Kapitany
Lecturer
Olivera Cibula
Associates
Milisanda Milović and Maja Vitić
What makes Svetlana Bojković an actress who masters her role and rules the stage? ̶ is the starting point for the author in his work on this exhibition.
This exhibition is just a small trace of a great, great career, and behind the presented paintings are biographies, events and stories that built and marked such a life and professional path.
The exhibition catalog contains authorial and critical texts, biography and texts by Svetlana Bojković, review of the repertoire, excerpts from reviews, selective bibliography, a summary in English and a rich documentary and photo materials.
Photo: B92.net
Back to...