Back to...
THE VOICE OF THE MOON
LA VOCE DELLA LUNA
Open air cinema – City square, Subotica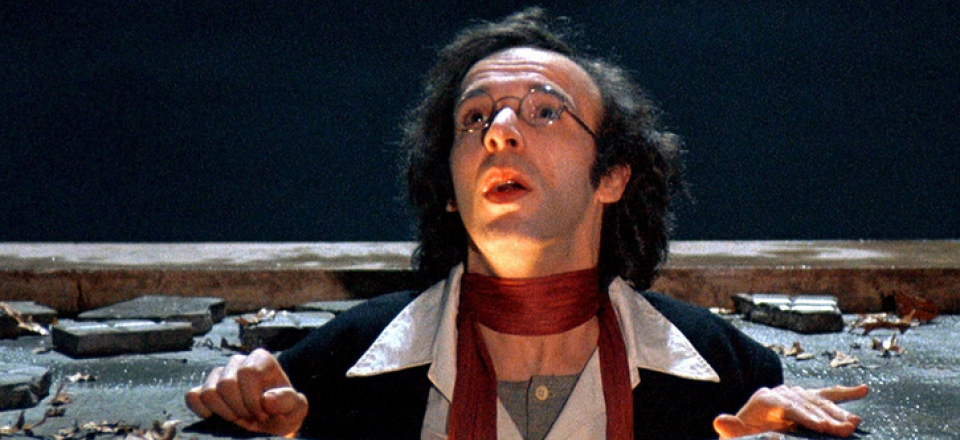 Italy, France 1990
Selection :
European Classics
Director:
Federico Fellini
Writer:
Ermanno Cavazzoni, Federico Fellini, Tullio Pinelli
Genre:
comedy, drama
Cast:
Roberto Benigni, Paolo Villaggio, Nadia Ottaviani, Marisa Tomasi, Angelo Orlando, Susy Blady, Dario Ghirardi, Dominique Chevalier, Nigel Harris
Cinematography:
Tonino Delli Colli
Editing:
Nino Baragli
Production Designer:
Dante Ferretti
Costume designer:
Maurizio Millenotti
Soundtrack:
Nicola Piovani
Production:
Cecchi Gori Group Tiger Cinematografica
Producer:
Mario Cecchi Gori, Vittorio Cecchi Gori
Filmography:
(as a director) 1987 Intervista 1986 Ginger and Fred 1983 And the Ship Sails On 1980 City of Women 1978 Orchestra Rehearsal 1976 Fellini's Casanova 1973 Amarcord 1972 Roma 1970 I Clowns 1969 Fellini Satyricon 1965 Juliet of the Spirits 1963 8½ 1960 La Dolce Vita 1957 Nights of Cabiria 1955 Il bidone 1954 La strada 1953 I vitelloni 1952 The White Sheik 1950 Variety Lights
Festivals:
1991 Italian National Syndicate of Film Journalists 1990 David di Donatello Awards 1990 Golden Ciak Awards 1990 Cannes Film Festival (out of competition)
Awards:
1991 Italian National Syndicate of Film Journalists - Silver Ribbon - Best Score 1990 David di Donatello Awards - Best Actor, Best Editing, Best Production Design 1990 Golden Ciak Awards - Golden Ciak - Best Cinematography
The amusing and entertaining adventures of a recently released mental institution patient and his band of misfits, who discover conspiracies to concur while looking for love. The Voice of the Moon (Based on the novel Il poema dei lunatici by Ermano Cavazzoni) was Fellini's last film before his death in 1993
Back to...