Archived
Back to...
PROTOCOL ON SECURITY AND PROTECTION MEASURES DURING THE 27TH EFF PALIĆ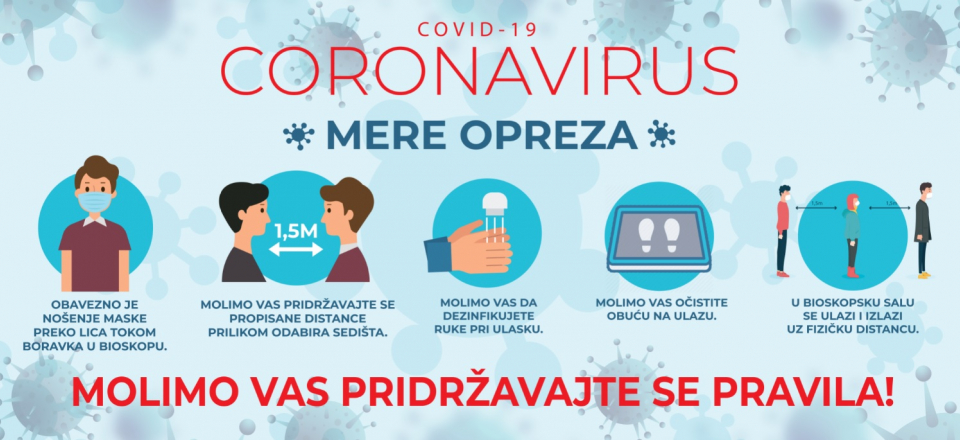 The Open University Subotica, executive producer of the Palić European Film Festival, organizes the 27th edition of the Festival from September 12 to 18, 2020, in compliance with all measures ordered by Serbian Government and the Crisis Staff for Prevention from Infectious Diseases Covid-19. The organizing team of the festival prioritizes the health and safety of all participants in the Festival.
Cinemas in Serbia are opened on September 1, 2020, under the following conditions:
It is mandatory to wear a mask over your face in the cinema, lobby and toilet.
It is obligatory to measure body temperature when entering the cinema. People with a temperature higher than 37.0 C will not be allowed to enter cinema hall.
Please respect one seat distance when choosing a seat.
Please disinfect your hands when entering cinema hall.
Please clean your shoes at the entrance to the cinema hall.
Please respect the prescribed distance of 1.5m while entering the cinema hall.
Food and drinks are not allowed.
Please respect the seating schedule provided with a ticket or lobby attendant instructions.
If you experience respiratory infections' symptoms please stay at home.
All information about COVID-19 in Serbia can be found here https://covid19.rs/
Thank you for your understanding and respecting the protection and safety measures! Let's be responsible!
Back to...