Archived
Back to...
Danijela Štajnfeld guest on the last Festival's night, meets the European Film Festival Palić audience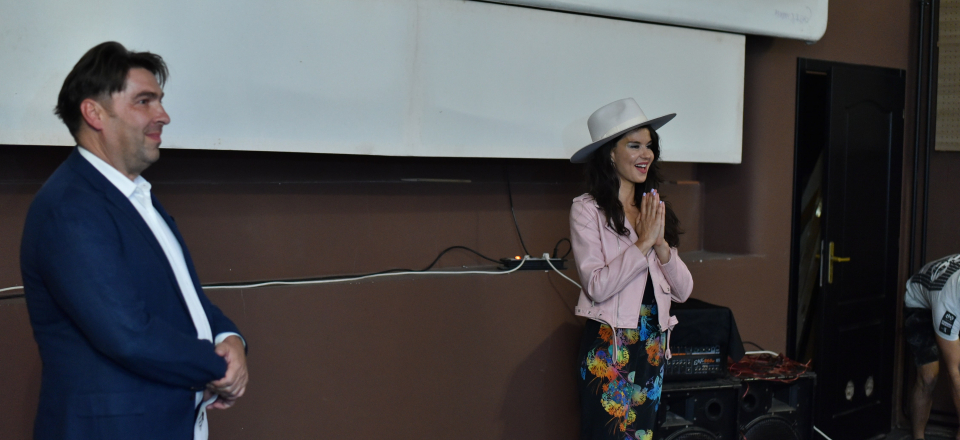 The documentary HOLD ME RIGHT by director Danijela Štajnfeld premiered in Serbia at the Palić European Film Festival, on Friday, September 18, at the Abazija Cinema. After the screening, the author of the film bowed to the audience, friends, and relatives who attended the premiere, and through a conversation with Miroslav Mogorović, the program director of the festival, at whose invitation she came to Serbia, she spoke about her film.
On the occasion of coming to Serbia for the national premiere of the film, Daniela Štajnfeld said: "I am very happy for the premiere of the film at the Festival in Palić, because this festival understands the author's film and pays much attention to new topics, offering new perspectives and views to the audience." This is a particularly emotional moment for me because my dad was born in Subotica, my grandmother lived there, and part of my family still lives there. I spent a lot of time here as a child and I am very attached to this area. I am happy that many people dear to me have seen my film, and I am glad to be able to hear their impressions and feel their support. "
The film HOLD ME RIGHT was shown as part of the festival selection New European Documentaries as a special screening. This documentary talks about the consequences suffered by victims of sexual violence, based on the intimate testimonies of survivors of rape. According to Daniela, the work on the film lasted for 3 years and went through very complex production challenges: "It started with the idea of ​​making a short film that would be a platform for people who survived raping. I wanted to express myself through their voices and stories. I spoke to about 100 people, interviewed 40 women and men rape victims, and selected a few central personal stories. Other stories are heard in the animated segments of the film as a "choir". From the beginning, I had a clear vision, and I did not want to interview experts, celebrities, or talk about statistics, because all that dehumanizes the experience of victims, which I think is the most important thing to hear. I also knew that I did not want sensationalism, nor forensic analysis of crimes, because, in such narratives, the victim's story is also lost out of focus. In that period, we worked without a larger budget, with film students, volunteers, and acquaintances, the so-called "stick and rope" method. Only after recording and listening to these interviews, the strength of these people's testimonies made me gain energy and decide to make a great film - a film that does not condemn anyone, a film that is not sensationalist, a human film that addresses viewers with the desire to experience and understand our stories ".
In the film HOLD ME RIGHT, director Daniela Štajnfeld allows telling their story to the perpetrators, convicts for sexual violence and rape: "After the interview with the rape victims, I decided to interview both sex offenders and rapists. I thought it was important that their voices were heard as well, bearing in mind that in most cases they are quite ordinary people, exemplary fathers or husbands, family members, and friends, who are not monsters. I wanted them to explain to us why they were doing what they were doing, as well as to talk about the consequences they faced after they committed the rape. The hardest part was finding the perpetrators willing to talk about it publicly. I found empathy in myself for those people, and I wanted it to be seen in the film as well. For me, that was the most important moment: the moment I confronted them and started talking openly, my healing began. "
The author of the film, Daniela Štajnfeld, draws her strength from empathy because, as a young actress in Serbia, she was a victim of sexual violence: "I did not want to talk about my experience in the film, because I did not want to share my story with others. But at one point I realized that personal angle is very important, especially for viewers. I wanted to make it clear to them that healing comes the moment the victim is released and tells his story without fear. This is very difficult because most rape victims live in fear of the rapist, condemnation of society, and misunderstanding of the environment. For many victims, healing begins just when they get rid of that fear and talk about their experience. From that moment on, power is in their hands. The film was in the final stages of editing when, thanks to the advice of director and friend Doug Lyman, I decided to tell my story. "
While anger and fear distract us from the necessary conversations about sexual violence, "Heal Me" also focuses on the educational aspect to better understand freedom of choice and consent, as well as protect the personal integrity of the body: "When I thought about why I make a film, one of the motive was that I wanted young people to look at it, especially young men. I wanted the film to offer them the necessary education through empathy, to reach them on some human level, and to explain to them that every person has the right to say "no" and "I don't want" whenever she wants. Through the concept of a video game, which is close to male sensibility, I wanted to explain the essence - that systemic and cultural support for rape victims is necessary, which does not exist, because people are usually left alone with their traumas, in the dark or maze, without support and plan for the future. It was also important to me that the film points to one serious problem, and that is that most rapists do not understand that there is no right to another person's body, that "no" means "no" and that we all have the right to decide when we have had enough. I would like this to be discussed more in schools, in the media, and society. Sensationalist and tabloid reporting on my film in Serbia speaks best about where we as a society are in terms of understanding the essence of these topics. I hope that we will learn something from that relationship and I want to take a step forward in that field. "
Back to...