Archived
Back to...
27TH FESTIVAL IN NEW TERM FROM 8TH - 14TH AUGUST 2020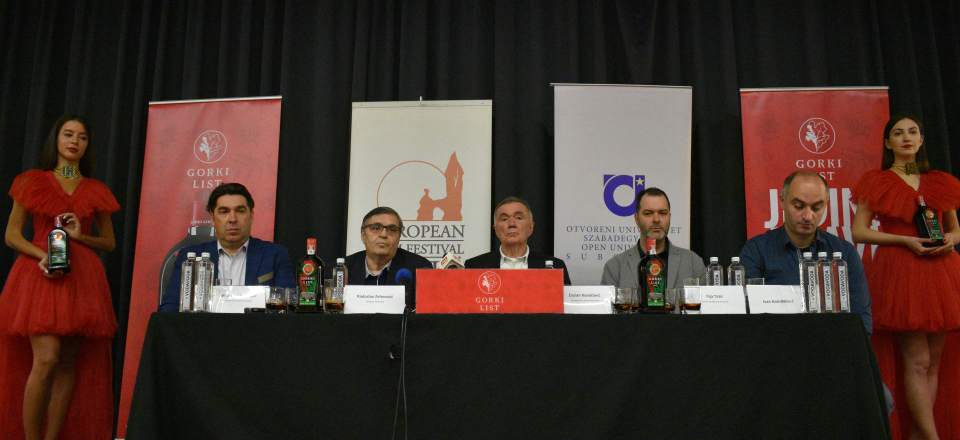 This year's 27th edition of the European Film Festival Palić, is taking place in a knew term from 8th to 14th August in Palić and in Subotica, organized by Open University Subotica. The festival is traditionally organized at various locations like unique Summer Stage in Palić, as well as Eurocinema, Abazija and Lifka. During the pre-festival programme and central part of the manifestation audience will be able to see more than 100 films from all parts of Europe, in 15 different selections and programmes. Many of the films will have its Serbian and regional premieres. Beside the rich film programmes audience will enjoy in many dynamic side programmes – concerts, exhibitions, promotions, workshops and seminars.
Festival will be opened on 8th of August by a premiere of renowned Serbian filmmaker Darko Bajić film "Ime naroda". The film is historical saga about Svetozar Miletić, well known lawyer, former mayor of Novi Sad and one of the most important and most influential Serbian politicians in Austro-Hungarian Empire in the mid nineteen century. "Ime naroda" was filmed at some historically important locations in Novi Sad, Vršac and Belgrade. In this film written by Milovan Vitezović, protagonist is Ljubomir Bandović, with Žarko Laušević, Katarina Žutić, Anja Pavićević, Andrija Kuzmanović, Nikola Ristanovski, Milutin Mima Karadžić and others.
Ime naroda - Ljubomir Bandović u ulozi Svetozara Miletića
At the closing ceremony on 14th of August audience will enjoy watching Serbian-Russian film "Hotel Belgrade" by Konstantin Starsky, with Miloš Biković and Diana Pozsarskaya in main roles.
"Palić Film Festival will probably be one of the first serious festivals and not only in our country. That is why we pay special attention to what make its renome – things that have brought it to be one of the most important festivals. It is a great encouraging event." said the president of the Festival's Council Dušan Kovačević.
Press conference - Beograd
Radoslav Zelenović, director of the European Film Festival Palić, said that previouse months many things were done hoping that the Festival will take place "We have to produce this festival the way we know. European programme Media where we also take part has very strict rulles for funding, like the minimum of 82 feature films. Those rulles we all excepted. We postponed the Festival for two weeks hoping to get some more time and prepare better organization, raise more funds, sice we expected budget simillar to last year's. I hope that every one understands importance of the manifestation like Palić Film Festival. Our advantage is that great part of the Festival is held at open air theatres. We are producing the Festival in its full range", concluded Zelenović.
Radoslav Zelenovic i Miroslav Mogorovic
Ilija Tatić, the executive producer of the Festival said several things about technical details of the manifestation and announced some foreign guests. "According to first reactions of people we contacted we see that they are willing to come. This encourages us", said Tatić and added that online festival was never an option. "Festivals are made for people to meet, for audience and artist to communicate, exchange ideas. Palić is ideal place for such activities. In case we won't be able to screen indoors we will organize all screenings open air".
Programme director of the Festival Miroslav Mogorović stated that the Festival stays in its programme frame established in previous period, and also that support from Media came as a confirmation of the previous successful engagement. " This year's cinema in focus is Bulgarian and Hungarian cinema. We created this program so we can bring guest no matter what restrictions we face in the future", he said. " We are sure that it will take less effort to bring some great films because choice of festivals in last three months is shorter for about 1000. Our base of films is the same except for the Cannes Festival. But they will also soon announce reduced list of film so we'll be able to pick few" concluded Mogorović.
Dusan Kovacevic i Ilija Tatic
Competition programmes, Official Selection and Parallels and Encounters, are as usual composed of most interesting and most actual films
Last year we successfully presented two new programmes The Great European Cineastes, dedicated to new films by great European names of the seventh art, and programme New European Documentaries that brings best documentaries, film format which is becoming more and more popular with critics and audiences.
Pre-festival programme will traditionally be opened by Best of Europe programme composed of European films that marked previous year, while European classics will be screened in Classics on the Square programme at open air theatre at Subotica's city square.
In the honor of "Aleksandar Lifka" for the exceptional contribution to European cinema, like in previous years, we will prepare homage programme. EFF Palić has been assigning this award to one foreign and one national laureate since 2000.
New Hungarian Film programme brings as always the latest production from neighboring country, while Young Spirit of Europe programme is dedicated to short experimental films. EFF Palić every year presents a cinema of one of European countries within Cinema in Focus programme with most interesting films and authors
Homage to Underground Spirit Award Laureate programme is organized traditionally for the exceptional contribution to independent film. A decade long programme is Eco Dox programme based on documentaries dedicated to environmental issues.
Festival will have some special screenings and selection of films will be screened in Palić in Belgrade programme in Fontana cinema.
The accompanying program of EFF Palić is an inseparable part of the festival experience, which shows the audience and guests-artists the unique spirit of the Festival that sets it apart from similar events in Europe. During its 27th edition, in addition to exhibitions, book promotions, panel discussions and a music program, in the garden of the Abazija cinema, which will mark EFF Palić, numerous educational activities will be organized, continuing its mission of creating a stimulating space for young people to face the seventh art.
Let us remind you, the European Film Festival Palić was supported by the MEDIA program of Creative Europe with a grant of 46,000 Euros for the realization of the 27th edition. The explanation of support, among other things, states that the Palić European Film Festival offers a wide range of activities to a growing number of audiences, as well as numerous quality accompanying events. The geographical diversification of the films is great and the Festival is led by an experienced team. Film education programs focus on young professionals and that is the basis to continue with programs to strengthen the film literacy of young audiences. The festival is part of the European Film Festival (MIOB) network and is in the process of being strengthened
Back to...