Nazad...
GLAS MESECA
LA VOCE DELLA LUNA
Bioskop na otvorenom u centru Subotice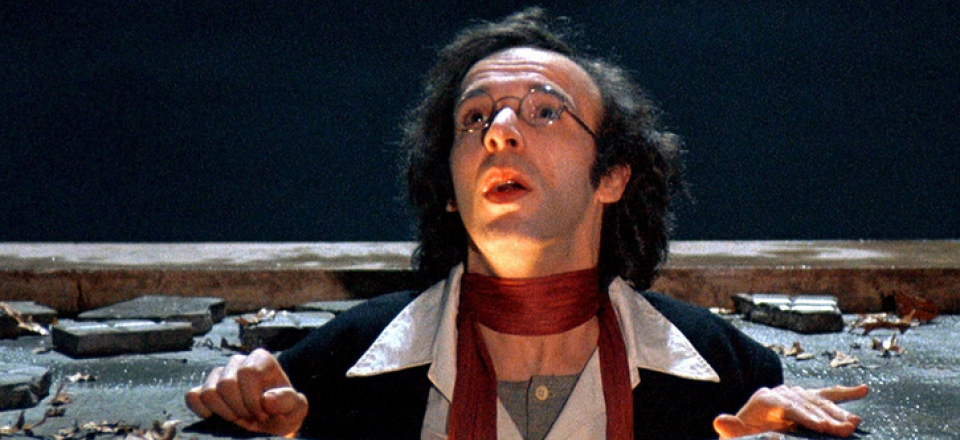 Italija, Francuska 1990
Selekcija:
European Classics
Režija:
Federico Fellini
Scenario:
Ermanno Cavazzoni, Federico Fellini, Tullio Pinelli
Žanr:
komedija, drama
Uloge:
Roberto Benigni, Paolo Villaggio, Nadia Ottaviani, Marisa Tomasi, Angelo Orlando, Susy Blady, Dario Ghirardi, Dominique Chevalier, Nigel Harris
Fotografija:
Tonino Delli Colli
Montaža:
Nino Baragli
Scenograf:
Dante Ferretti
Kostimograf:
Maurizio Millenotti
Muzika:
Nicola Piovani
Produkcija:
Cecchi Gori Group Tiger Cinematografica
Producent:
Mario Cecchi Gori, Vittorio Cecchi Gori
Filmografija:
(samo kao reditelj) 1987 Intervista 1986 Ginger and Fred 1983 And the Ship Sails On 1980 City of Women 1978 Orchestra Rehearsal 1976 Fellini's Casanova 1973 Amarcord 1972 Roma 1970 I Clowns 1969 Fellini Satyricon 1965 Juliet of the Spirits 1963 8½ 1960 La Dolce Vita 1957 Nights of Cabiria 1955 Il bidone 1954 La strada 1953 I vitelloni 1952 The White Sheik 1950 Variety Lights
Festivali:
1991 Italian National Syndicate of Film Journalists 1990 David di Donatello Awards 1990 Golden Ciak Awards 1990 Cannes Film Festival (out of competition)
Nagrade:
1991 Italian National Syndicate of Film Journalists - Silver Ribbon - Best Score 1990 David di Donatello Awards - Best Actor, Best Editing, Best Production Design 1990 Golden Ciak Awards - Golden Ciak - Best Cinematography
Zabavne avanture netom otpuštenog pacijenta ustanove za mentalno zdravlje i njegove grupe neprilagođenih koji, tražeći ljubav, otkrivaju niz zavera koje treba da razreše. Glas Meseca (inspirisan romanom Poema o lunaticima Ermana Kavaconija) je poslednji film Federika Felinija (1920-1993).
Nazad...