Back to...
BROTHER'S KEEPER
OKUL TIRAŞI
Eurocinema, Subotica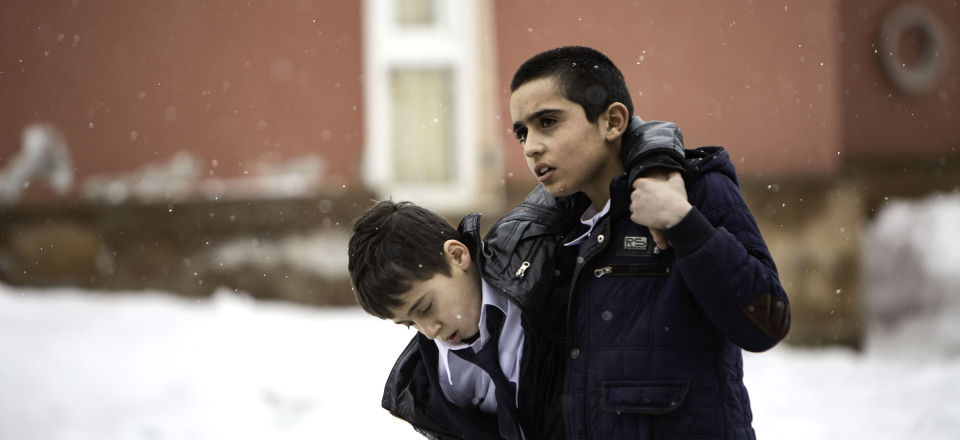 Turkey, Romania 2021
Selection :
Official Selection
Director:
Ferit Karahan
Writer:
Ferit Karahan, Gülistan Acet
Genre:
drama
Cast:
Samet Yıldız, Ekin Koç, Mahir İpek, Nurullah Alaca, Cansu Fırıncı, Melih Selçuk
Cinematography:
Türksoy Gölebeyi
Editing:
Sercan Sezgin, Hayedeh Safiyari, Ferit Karahan
Production Designer:
Tolunay Türköz
Costume designer:
Fevziye Aslı Kömür
Make up:
Fulya Demirci
Sound:
Srdjan Kurpjel, Kenan Güleşçe
Production:
Asteros Film (Istanbul)
Producer:
Kanat Doğramacı, Executive producers: Tolga Günay, Ayhan Tepegöz, Craciun Alexandru Tudor
Filmography:
2013 Cennetten Kovulmak / The Fall From Heaven 2011 Xewna Yûsiv/ Yusiv's Dream 2010 Berîya Tofanê/ Before the Flood
Festivals:
2021 Berlin International Film Festival (Panorama selection)
Yusuf and his best friend Memo are pupils at a boarding school for Kurdish boys, secluded in the mountains of Eastern Anatolia. When Memo falls mysteriously ill, Yusuf is forced to struggle through the bureaucratic obstacles put up by the school's repressive authorities to try to help his friend. But by the time the adults in charge finally understand the seriousness of Memo's condition and try to get him to the hospital, the school has been buried under a sudden, heavy snowfall. With no way out and now desperate to reach help, teachers and pupils engage in a blame game where grudges, feelings of guilt and hidden secrets emerge, as time ticks mercilessly on and threatens to run out.
Back to...