Archived
Back to...
Igor Toholj: We are trying to bring great documentaries of European cinema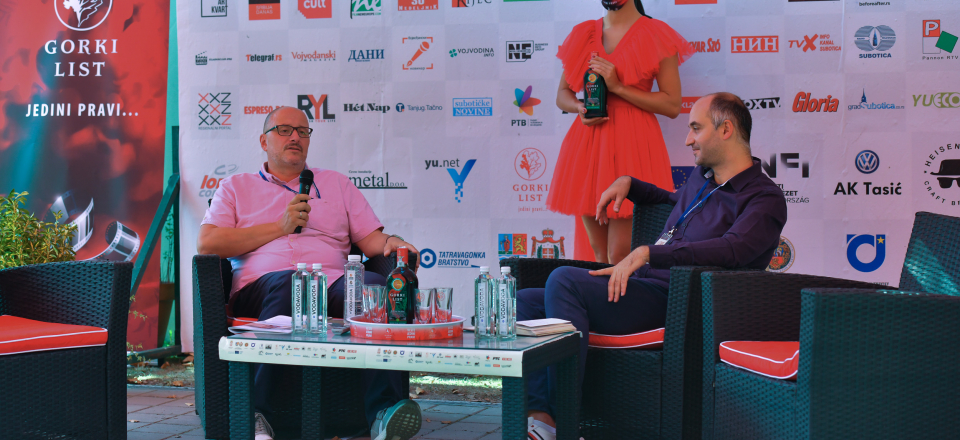 On the third day of the European Film Festival Palić, on Monday, September 14, films CHARLATAN by Polish director Agnieszka Holland and WILDLAND by Danish director Jeanette Nordahl were screened in the Main Competition Program. In Parallels and Encounters, the repertoire included I AM FRANK by Slovenian director Metod Pevec, INSEPARABLE by Marko Nabersnik, also from Slovenia, as well as FOMO by Hungarian director Attila Hartung.
Igor Toholj, selector of the New European Documentary and Eco Dox programs, spoke at a press conference about his selection of films for this year's edition of the festival. Toholj especially emphasized the poetic character of two Serbian films in the Eco Dox program: film THEN COMES THE EVENING by Maja Novaković could already be ranked among the best in the tradition of Yugoslav short documentaries. As an art historian, Maja is inspired by art, but also by grandiose influences from the history of world cinema, such as Sergei Paradzhanov. Dragan Stojmenović's short film THE GARDEN OF THE TRITON is stylized, witty, bringing us closer to unknown underwater world.
About New European Documentaries program, Toholj said: "The production of documentary films is now growing into a hyper-production, especially due to the large number of debutants who appear every year. In this program, we always have at least one film by a great European cinematographer. This time, there are PARIS CALLIGRAMES by veteran Ulrike Ottinger, who received this year's Berlinale award for her work. It is a wonderful documentary essay about the time during the 1960s, which she spent as an artist in Paris, and witnessed many political turmoils and events."
Saša Petrović, director of HEAVEN, PURGATORY, HELL… .2020, said about the title of the film: "These are the terms that I tried to place in one time frame and one spatial point. It was a market in my town of Lazarevac that I pass through every day. This work is engaged in some way - not politically, but more existentially."
On the fifth day of the festival, on Wednesday, September 16, in the EuroCinema, film UNDINE by German director Christian Petzold will be screened in the Main Competition Program at 8 pm, while DAU. NATASHA by Russian director Ilya Khrzhanovskiy is on the program at 10 pm. In the Parallels and Encounters program, at 19:30 in the Abazia Cinema, the repertoire includes KILL IT, AND LEAVE THIS TOWN (Mariusz Wilczyński, Poland). At the same place at 21:30, on the program is MATRIARCH by Croatian director Jure Pavlović.
Back to...